The only clothes officially sponsored by Famitsu. Avalable in Pomeranian size only.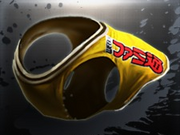 Obtained by: DLC: The Street Wear Pack
Stats Added When Worn
Life
+5
Attack
0
Defense
+2
Stamina
+5
Hunger
+5
Speed
0
Price in Store
N/A
Durability
Infinite
Notes: Can only be equipped by the three types of Pomeranian.