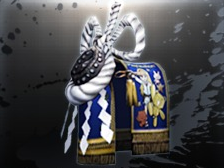 Rare, even among mawashi. All smaller animals will flee on sight. Cannot be paired with neck accessories. The Mawashi can only be worn by Tosas.
Obtained by: DLC: The Street Wear Pack
Stats Added When Worn
Life
0
Attack
0
Defense
+2
Stamina
0
Hunger
0
Speed
0
Price in Store
N/A
Durability
Infinite
Notes: Can only be equipped by the Tosa.